Our family story.........
I had my first miscarriage when I was 28 years old and I was 12 weeks pregnant. I went in to hear the baby's heart beat and there was none but the tech told me that you wouldn't hear the heartbeat with that machine. The tech handed me an envelope with a letter in it to take to my OBGYN who was a couple floors down. As my husband and I walked to the elevator, I knew something wasn't right. I opened the envelope and saw in the letter no FHT. I am an RN so I knew what that meant and that there was no fetal heart tone- no heart beat. I was devastated as this was our first pregnancy.

Three months later we found out we were pregnant with Emmy who is now 15 years old. I had preeclampsia with her and she was was delivered 3 weeks early due to my condition. She was healthy weighing 4 lbs and 4oz!
Two years later I had another miscarriage when I was 9.5 weeks pregnant. Then 3 months later we found out we were pregnant with my little boy Asher. He was in the NICU and very sick with transient tachypnea (rapid heart rate) he worked so hard to breath that he collapsed his own lung. We were told he would be in the NICU for awhile and if he got any worse he would be put on the ventilator. We fervently prayed and the next day, Asher completely shocked his doctors and for the first time I was able to feed him and we could hold him. He came home 2 days later!
After Asher I had 4 more miscarriages over the years with the last one being a boy - we named him Christian. Genetic tests were ran on all 6 of my miscarriages and no abnormality was found. I told a good friend that I wish I knew what the sex of my babies were. She told me why don't you ask God and I had never thought of that before. So I asked God if he would tell me and he said yes then he told me I needed to be still in order to hear. So I got still and I heard very faintly two girls and four boys. I wasn't sure I heard correctly so I asked God if he would tell my husband what sex the babies were. When I got home I asked Eric and he said he already knew because that day that my friend said to ask he did. I said why didn't you tell me? He said because he wasn't sure he heard God correctly. I asked what did you hear? He replied four boys and two girls. I was so amazed that God told me the girls first and Eric the boys first and that God would be so good as to care about our hearts!
After Christian, Eric and I decided we didn't want to have anymore babies and go through losing anymore.God had me go to a fertility specialist and I wasn't sure why since we were not going to have anymore babies. I wondered if the fertility Dr. knew why we had so many miscarriages. Apparently, I had already had all the lab work done and the doctor looked at the labs and told me I had a blood clotting disorder known as anti-phospholipid anti-body. If I was to ever get pregnant again I needed to let him know as soon as possible to start blood thinner injections to save the baby.
Even though it was not our plan to get pregnant again, years later on our 15 year anniversary, God had other plans and as soon as I found out I was pregnant I called the fertility doctor and we started blood thinner injections. We decided not to find out if we were having a boy or a girl and we were trying to not worry the whole time. When I was 12 weeks along God told me to name my baby Matthew so I thought "oh it's a boy!" When I looked up what Matthew meant it meant "gift from God". And our last rainbow baby,Matthew, has definitely been a blessing as all my children have been!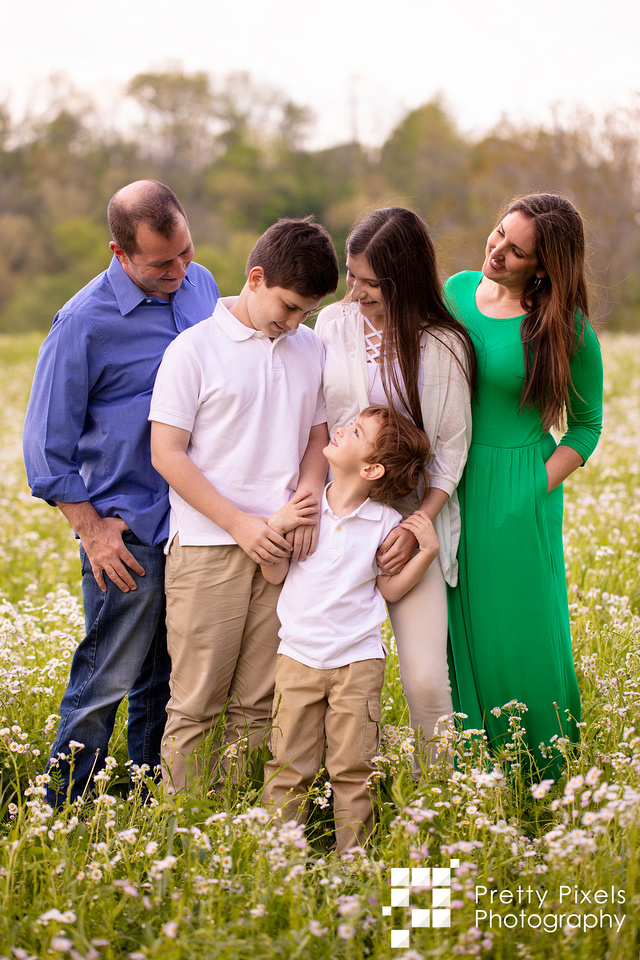 The doctors do not know how Emmy and Asher survived. They are 10 years between my oldest and my youngest. Being a mama has definitely been one of the best experiences of my life and although our path was hard and heartbreaking I have nine children and I will see the other six when we are in heaven. My husband and I have this ongoing joke that whoever gets to heaven first gets to name the others. Thank you for letting me share my story! God is a huge part of it and he has helped us deal with the grief and the loss and given us a hope for our future in Him!